Title says it all really:~
Rover 1.8 K-Series cold start up pulsing and high idle when warm.
This is what happens on stone cold engine start up. Regular Pulsing from below 1000 rpm to nearer 2000 rpm until warmed. Will often drop revs so low on cold start that it will stall several times. The gauge used is connected to the little nipple on the Inlet Manifold in place of its connection to the Charcoal Fuel Fumes Canister to show the Vacuum Pressure.
This is how the high 1300-1400 idle becomes steady in the fully warmed engine. No stalling when warm.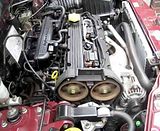 Background information. Purchased this Rover 45 Y2000, 58,000 mile 1.8 Connoiseur last month with 'failed' cylinder head gasket ( CHG ). Did not drive the car prior to replacing the CHG which appears to be a 100% successful repair along with renewal of water pump ~ which apprears to be the cause of the coolant loss leading to engine overheating damage to CHG. The real cause of the actual failure. The stains and residues under the Water Pump indicate coolant losses over some period prior to CHG 'failure'.
This car has an identical engine to that in my own MGZS120+ I bought new in 2003 now showing 53,000 miles. Using the Vacuum/Boost gauge on the same Inlet manifold nipple on the ZS shows near identical vacuum pressure readings on cold start up and warmed engine running to those same figures with the Rover 45, except for the cold start 'pulsing' and warm engine high idle.
I have swapped/replaced just about everything likely to cause this erractic cold start and high idle problem on this Rover 45 but a cure has not been found.
If I temporarily remove the plastic hose which supplies vacuum to the Brake Servo on the MG ZS's inlet manifold = Effectively making a largish leak in the Inlet manifold, the ZS's engine pulses powerfully between 1000~3000 rpm every couple of seconds or so. Do the same on the identical Rover 45 Inlet manifold ~ that is remove the same Brake Servo Vacuum hose, there is no pulsing but a fast and progressive rise in engine revs from the highish idle of 1300 upwards and above 4000 rpm... no pulsing, just steady increase in engine speed. Would go much higher if the vacuum pipe was not quickly put back into its manifold location.
Another thing. If I disconnect the connector from the
NEW
Coolant Temperature Sensor whilst the warm engine is running, the radiator fans come on powerfully as expected and the engine becomes very steady at a high idle of 1400 rpm...and those fans run on for a very long period even when I quickly reconnect the CTS to the engine's wiring loom. that could be a clue... the 1400 high idle ... could mean the CTS is not transmitting its information to the ENGINE ECU ... just guessing here ... could be a poor connection between sensor and ECU somewhere in the loom.
My searches, numerous tests and part swaps on this car so far all points towards a possible small leak in the Inlet Manifold side of things between Throttle Body and Cylinder head. I am tempted to swap the two Inlet manifolds on the identical engines to see if that provides a cure..... quite a bit of work but, I am really running out of ideas now.
One other thing, the car drives quite very well except for an occasional flat spot in acceleration around 3000 with LARGE throttle openings. Slower progressive throttle openings do not show any evidence of a flat spot, just steady build up in speed to maximum revs ... in lower gears. Fuel consumption is about what I'd get from the identical engine in the MGZS driven the same way.
I am almost out of ideas now as to how to cure this engine idling problem on the cold and fully warmed engine. At high revs the car flies.... and it will be a perfect car once I overcome this problem.
Thanks for reading this far. If anyone has experience of similar problems with a 4-cylinder K-Series and found a cure, I'll be delighted to hear from them. My searches showed a couple folks with cars showing similar idling problems. One solved it by simply replacing the complete Inlet manifold assembly with a new one he obtained cheaply, whilst the other never really solved it but his car steadily improved so that it became almost not a problem... a self cure which sometimes happens.
This amateur spanner twirler is looking forward to hearing suggestions and advices from those with experience and expertise in these things.
..